Custom brace helps suburban goat enjoys grazing before moving to greener pastures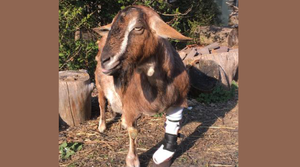 We did a double take when we were contacted by a client living in the heart of bustling Alexandria, Va. who was asking about a brace for her goat.
You read that right.
A goat. Living just outside the Washington, D.C. beltway in the middle of a tidy neighborhood filled with 1950s-era brick ramblers.
Owner Terri Scrimshaw knows the arrangement is a bit unconventional. But back in 1996 she lucked upon her four-acre property off Telegraph Road and decided it might be nice to have some grazing critters to help with the landscaping. She thought some miniature goats would be nice. One thing lead to another and she ended up with Coffee and Cream -- a pair of Neubian goats who were not at all miniature, but who were very good grazers. Sometimes a little, too good. The Scrimshaws caught the pair nibbling on their house a time or two and one time they discovered the pair inside their old Suburban, eating the fabric from the ceiling.
"They get into trouble- we learned the hard way," Terri says. "They eat everything including the house."
At first, her neighbors fussed about the livestock (Terri had gotten some chickens and ducks, too). But because they live on over two acres, they're allowed to have them. These days, she says folks have told her they kind of like that there are farm animals living in their midst.
"Here we are in the middle of suburbia and we have chickens crowing."
Coffee passed away last year and Cream, 18, had to  adjust to life without her brother and partner in crime. Despite not having a buddy, she'd been faring alright, Terri says.
Except for her left front foot.
Cream had arthritis and had also developed a condition known as Carpal Varus, which was causing her to walk on the side of her hoof, rather than flat on the bottom. She'd had it for a year or two, and the Scrimshaws didn't realize it would progress as quickly as it has. With Cream leaning so much on the side of one foot, it had started to affect her shoulder and spine.
Earlier this spring, Terri asked Dr. "Tookie" Myers at Deepwood Veterinary Clinic in Centreville, Va. about treatment options. Her leg can't be fixed, but he recommended a Custom Farm Animal Brace and referred her to Animal Ortho Care.
The AOC team was in Africa helping to treat an elephant when Terri reached out initially. But soon after they returned, they offered to stop by Terri's house to take a cast of Cream's leg for a brace.
While AOC offered detailed instructions for how to properly cast a leg, Terri was relieved that the AOC Team was willing to come to her house on their drive home to help her out. She preferred having the experts take charge.
Within a couple weeks of casting Cream's leg, AOC had finished the brace and stopped by Terri's to fit it. The initial fitting went well, Terri says. The AOC Team showed her how to fit it and tighten the straps properly. That first time, Cream just stood in the brace for a half hour rather than taking it for a test walk.
Over several weeks, Cream slowly built up the amount of time she wore the brace to several hours a day. Since she was an old girl, Terri says the goat wasn't moving around a whole lot anymore. Mostly, she liked to lay in the sun and when it got too hot, she'd meander back to her pen.
With the brace on, Terri noticed Cream grazing in the yard more often.
There was one day she walked with me all around the property, which is something she couldn't do much anymore," she said.
But the next day, Cream struggled to get up. Her vet thought she was sore and might have overdone it. Terri says soon after that, Cream wasn't getting up at all.
"I'm very sorry to say that Cream passed away a few days ago," Terri wrote in an e-mail in early May. "She was such a sweet girl. I miss her so much."
Until her last couple days, Cream had been doing well. She seemed to like the brace because it helped her stay level.
"The brace definitely helped her for the couple weeks she wore it," Terri says.
There were some tweaks Terri had hoped to make. For one, Creams good leg would inadvertently kick the brace because its size and the way her bad leg turned in. The brace also made it tricky for her to fold her leg to lay down. She had sent pictures and videos of Cream wearing the brace for AOC to evaluate- and they were happy to modify the brace to better suit Cream.
Working with Animal Ortho Care was a positive experience, Terri says. She's impressed with how responsive they were when she had questions and she found the cost of the brace was reasonable.
"It's not overly expensive- it's less than what I expected," she says.
Terri misses her yard buddy. Down the road she'd like to adopt a new grazer to help scare of predators like the foxes that like to go after her chickens. She's heard alpacas can be useful for this job. Dr. Myers told her llamas were also helpful. But the best critter for protecting a yard?
An emu.
"They're the best at keeping things away." Terri says.
You never know what type of critter might turn up in Alexandria next.