Fall in Love with Mobility: Custom Dog Braces Help Redefine Autumn Exploration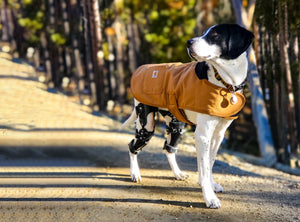 Fall activities for dogs wearing custom braces – Need a new activity? We have the best activities Even if you're not an outdoors person, there is still an option for you both. while your dog is still healing with their dog knee brace. Healing a CCL tear doesn't mean your pup has to stay inside.  There are many low-impact, fun fall activities!
1. Explore the fall colors by going for a hike. – Pick your favorite go-to spot that has scenic views and enjoy the colorful trees with your dog. Just keep in mind that you may need to take breaks and keep the walks for short periods.
2. Play in the fallen leaves. – Find a pile of leaves in your yard or in a park and let your dog have the best time frolicking around! Make it a challenge by hiding a toy or treats that your pup must find!
3. Visit a dog friendly pumpkin patch. – Call up your local patch and see if you can pick some pumpkins with your dog by your side! 
4. Take a scenic fall car ride. – Jump in your car and take your favorite drive with leaf filled trees! Put your windows down and see what's on the radio while your dog is enjoying the crisp air with his head and ears flopping in the wind.
5. Bake some homemade pumpkin inspired dog treats. – Looking for a new recipe? Grab your dog and head to the kitchen! Find your favorite pumpkin dog treat recipe and get to baking. As the sous-chef your pup can help with cleaning up the bowl and assist with vacuuming up any residual crumbs that make themselves to the kitchen floor.
6. DIY Thanksgiving costumes. – Thanksgiving is right around the corner! Do some research and see what creative costume ideas you can find for your dog so they can be the main attraction at Thanksgiving dinner. Have their costume match their brace.
7. Get exercise with some backyard football. – Head out to your backyard with your dog to get a small workout in! Grab a football or toy and play a game of hide-and-seek. Once your dog finds it, they get rewarded with a treat!  
8. Set up a fun Fall photoshoot out in the leaves. – Grab your furry friend and some festive items to decorate your space in the leaves or a costume to spice things up! You can give your dog a challenge at the same time by cutting open a pumpkin and hiding some treats in it!
9. Go for a dog friendly hayride. – Get your dog Fall ready with a hayride! See if your local Fall festival or pumpkin patch has hayrides for your 4-legged friend. Have fun riding around in the hay and looking at Fall views.