The EMbrace Relief System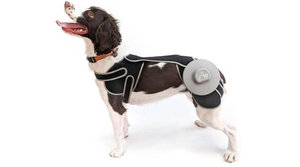 Does your pet suffer from painful hip dysplasia? Are you looking for a noninvasive way to treat your dog's pain? Do you want to help your dog regain his quality of life? Meet the EMbrace Relief System. The EMbrace Relief System was developed by the dedicated team at Animal Ortho Care. This innovative game changer has been specifically designed to address hip pain, including the symptoms accompanying hip dysplasia. The EMbrace Relief System is the first active garment to include PEMF Pulsed Electromagnetic Field technology. It is a wearable harness that is truly one of a kind. Due to this wearable design the EMbrace Relief System, allows pets to remain active and continue with their typical daily activities while receiving valuable healing therapy.
Dogs, both young and old, can use the EMbrace Relief System to regain their previous level of activity. At Animal Ortho Care we believe that a loss of mobility doesn't need to signify the end of a dog's journey. Human and animal studies have shown that PEMF therapy stimulates an anti-inflammatory response which in turn increases circulation, reduces swelling, and relieves pain. Additionally, the EMbrace Relief System can be used by owners post operation to manage their pet's pain and discomfort. This revolutionary pain relief system has allowed pet parents to keep their pets by their side while being confident that their pet's well-being is addressed. This product is perfect for elderly dogs who suffer from hip dysplasia or osteoarthritis.
The EMbrace Relief System
The EMbrace Relief System provides PEMF benefits in a compact, light-weight noninvasive system. PEMF technology, as evidenced by the research, is effective in providing temporary relief from common symptoms of hip dysplasia, but this device can also be used for sprains and overall pain management. The EMbrace Relief System consists of a multiple-use garment that is specifically designed to house the EMpower Devices. This specially constructed garment has been crafted to accept hot and cold pack inserts into pockets that are located directly over the hips. The EMbrace Relief System has been designed to provide accurate positioning by ensuring targeted PEMF Therapy to the desired treatment area.
What Is PEMF?
What is PEMF? PEMF acts much like an inductive phone charger by creating an electromagnetic field outside the body that produces a voltage potential inside the body. Under normal conditions, nerves operate at -70 millivolts and fire (signaling pain) at -20 millivolts (3). Therefore, increasing the voltage potential in living cells will immediately reduce the sensation of pain. This and more is accomplished because increasing a cell's voltage potential dramatically increases the presence of calcium ions (Ca2+).
By avoiding an invasive procedure, you'll spare your pet the anxiety and stress of a full procedure. PEMF stimulation and thermal therapy works at the cellular level, accelerating the reaction rate of Calcium (Ca2+) and Calmodulin (CaM) binding. It is through this process that an increased Nitric Oxide production is achieved in the targeted tissue. Nitric Oxide plays a critical role in reducing COX-2, the enzyme responsible for inflammation and pain.
Keep Your Dog Active With The EMbrace Relief System
If your dog suffers from dysplasia, postoperative pain, fatigue, or arthritis, you may want to try using the EMbrace Relief System to manage his symptoms. The EMbrace Relief System is changing the ways that dogs are being treated for hip pain; when the time comes that your dog has a hard time getting up on your bed or walking down the stairs consider trying out the EMbrace Relief System. At Animal Ortho Care we have been caring for animals for over 13 years. Our groundbreaking team is continually coming up with new and innovative ways to keep your furry family members by your side; either with custom braces, orthotics or the EMbrace Relief System, Animal Ortho Care can help your pet stay where they belong - at your side.