Top 5 Dog-Friendly Road Trip Destinations for 2022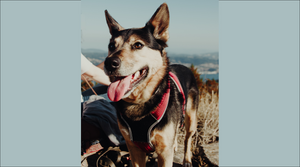 1. Grand Canyon National Park
The Grand Canyon is a popular road trip destination for many, but your four-legged friends can also come along for the ride. The park is filled with beautiful views and scenic trails, including the South Rim Trail, which runs for fourteen miles and is perfect for a pet-friendly adventure! Leashed pets are allowed on trails above the rim, Mather Campground, Desert View Campground, Trailer Village, and throughout developed areas in the park. The park even has pet-friendly lodging options, such as Yavapai Lodge and a kennel at the South Rim area of the park where your pet can spend the day if you want to go to parts of the Grand Canyon that are not pet-friendly. Some pet-friendly restaurants include Yavapai Lodge Tavern and Big E. Steakhouse and Saloon. The Grand Canyon is one of the most pet-friendly national parks in the country, so get ready to bring your furry friends along for the ride!
2. Bend, Oregon
Oregon is a popular road trip destination for many, but instead of heading to Portland, you and your furry friend can go to Bend, Oregon, a city with more than 51 miles of urban trails, over 13 off-leash areas in city parks, and even over 40 restaurants that love dogs, in addition to plenty of dog-friendly businesses and events! There are many pet-friendly locations, from Bob Wenger Memorial Off-Leash Area, a 14-acre dog park in Southeast Bend, to pet-friendly breweries, restaurants, outdoor food carts, and even doggy daycare and pet-sitting as needed. There are many opportunities in the dog-friendly culture of this city for you and your pup to explore through adventures like mountain biking, kayaking, hiking, skiing, and climbing. Bend is known as DogTown, USA, and has one of the highest dog ownership per capita globally, with 49 percent of residents owning a dog! 
3. Bar Harbor, Maine
Maine is always a fun place to go on a road trip, and Bar Harbor is a pet-friendly city! Bar Harbor is a great road trip destination if you don't want to leave your four-legged friends behind, from hiking trails in Acadia National Park to sandy beaches and pet-friendly patios. There are plenty of hotels, inns, and restaurants with outdoor seating, such as Side Street Cafe or Looking Glass Restaurant, that will be glad to have you and your four-legged friend. This offers the best of both worlds with mountains and sandy beaches that both you and your pup can enjoy and many miles of hiking trails that you are allowed to go on together, such as the Ship Harbor Trail or the Cadillac Mountain South Ridge Trail if your dog is more of a hiker. The day could also end at one of the Blackwoods, Seawall, or Schoodic Woods campgrounds, all of which welcome your furry friends.
4. California Coast
The California Coast road trip offers many opportunities for your dog to enjoy the fun alongside you. You can start in San Francisco at Fort Funston National Park, where you and your dog can get plenty of exercise. You can also visit Carmel-by-the-Sea, where you and your furry friend can enjoy a meal at one of the many pet-friendly restaurants, walk on the beach, or even explore Mission Trails Park. You and your dog can also explore the redwoods in Big Sur, which has lots of dog-friendly campsites and trails. There are many other pet-friendly spots, like Catch A Canoe & Bicycles Too, on Big River Estuary, which can help you and your pet enjoy a canoe ride, doggy day spas in Malibu, or Taste of the Himalayas, which allows your dog to stretch out while you enjoy a nice meal. San Diego also has many options, such as dog beaches, off-leash dog parks, or even catching a baseball game at Petco Park, which has The Barkyard, a special viewing area just for your dogs. Baker Beach is guaranteed to give a fun experience filled with dogs for your pet to befriend, and many hotels, resorts, and inns offer cabins or cottages that are pet-friendly! 
5. The Florida Keys
The Florida Keys can be a fun experience for you and your pup! The Overseas Highway offers scenic views, and you can also stop at Miami's Lokal restaurant, which is pet-friendly. John Pennekamp Coral Reef State Park is a pet-friendly park and the first undersea park in the United States. This park offers hiking trails and picnic spots that you and your pet can enjoy. Key Largo Hammock Botanical State Park is another pet-friendly park, with miles of trails for your dog and even an off-leash dog park. There are also opportunities for other kinds of adventures, such as Lazy Dog Adventures, which allows you and your pup to explore the mangroves of Key West with a kayak or paddleboard, where you might even see marine life such as jellyfish, conch, sea cucumbers, stingrays, or even a shark or manatee. Key West also offers many places to eat and lifestyle stores, which all welcome your four-legged companion. There are many different dog parks throughout the Keys as well!