6 Unique Animal Soul Mates: Tales of Love Across Species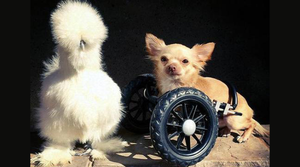 We don't know about you, but our social media feeds are probably 90 percent adorable animal videos. So it's no wonder that in between fabricating braces, answering phones and meeting with clients we spend a fair amount of time LOLing at dogs who've learned the joys of sledding or cats lost in a sea of fuzzy, yellow ducklings. In fact, it was this video of a chicken that adopted a litter of five itty-bitty kittens that inspired this week's post, one in which we rounded up some of the most unusual animal friendships on the interwebs– because who says love can't cross species? So without further ado (and just in time for Valentine's Day) check out these unique animal soul mates:
Bubbles and Bella
Rescued from the ivory trade and moved stateside to the Myrtle Beach Safari in South Carolina, Bubbles is a 9,000-pound African elephant and her bestie is Bella, a 60-(or so)-pound black lab. The pair enjoys swimming in a nearby river where Bella loves to use the laid-back pachyderm as her own personal diving board. These low-maintenance BFFs enjoy long walks through the safari (Bella hitching a ride on Bubble's back, naturally) or just chilling in the grass.
Bea and Wilma
Though they have plenty of opportunities to befriend critters of their own species, Bea the giraffe and Wilma the ostrich formed a unique bond in their home at Busch Gardens in Tampa Bay, Fla. To be fair, it's not as if the pair don't have anything in common– what with their long necks, long legs and big eyes. Still, we're not sure most ostriches would tolerate an 18-inch giraffe tongue poking at her ears. Either way, in makes our hearts skip a beat to see love blossoming in a pre-fab-savanna somewhere in Florida.
Pumpkin and Batman
Forget all the Tom and Jerry cartoons you've ever watched, here's a couple that defies age-old stereotypes. Meet Pumpkin the cat and Batman, a Dumbo-eared rat. Pumpkin lives in a Tennessee animal shelter where he's been known to comfort critters of all species brought in for care– whether it's an injured goose, a nervous dog or a helpless kitten. When shelter workers introduced him to Batman, Pumpkin immediately lay down in the rat's cage and started grooming him. Batman returned the favor by licking Pumpkin's ears clean and love was born– the two are often found keeping each other company at the shelter, much to the amusement of visitors.
Lammie and Gertjie
An orphaned rhino named Gertjie found an unlikely guardian in the form of Lammie the sheep. The pair lives at Hoedspruit Endangered Species Centre in South Africa where Gertjie was taken after his mother was killed by poachers. Just 3 months old at the time, Gertjie was inconsolable at the loss of his mother. The center searched for weeks to find a suitable companion for the rhino before they introduced him to a nervous 3-week-old Pedi sheep named Lammie. The sheep immediately took to Gertjie, following the baby rhino around everywhere. The two have remained steadfast friends, frolicking around the reserve and offering companionship after the traumas of their babyhood.
Suryia and Roscoe
Suryia the orangutan and Roscoe the blue tick hound met cute at the The Institute of Greatly Endangered and Rare Species in Myrtle Beach, S.C., after Roscoe followed one of the preserve's employees home one day. Nobody claimed the lost dog, so he stayed at the preserve. Early on, the dog spotted Suryia and immediately bounded over to meet her– unusual behavior as dogs are usually wary around primates. But the two became instant friends anyway and today they enjoy swimming and rolling around. Suriya will even take Roscoe on walks and offer him treats. Our kind of lady.
Roo and Penny
This might be one of our favorite pairings. Penny is a silkie chicken who had been rescued from a testing program where she was used for experiments. The pampered chicken was getting bored spending her days at home, so her new mom began taking her to work at Duluth Animal Hospital in Duluth, Ga.. Roo is a chihuahua that was born without his front legs. He was brought to the animal hospital by a good Samaritan who'd found him freezing in a ditch. Penny, who had already made a name for herself greeting patients at the hospital, befriended Roo and the two became inseparable. These days, Roo rolls around the hospital with some custom-made wheels and enjoys cuddling with his fancy chicken friend.