OLLIE DEBUTS AT THE ANIMAL HUMANE SOCIETY'S WALK FOR ANIMALS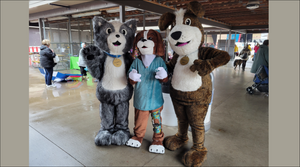 On Saturday April 30th, Animal Ortho Care set up their booth at the Animal Humane Society's Walk for Animals charity event. The overcast sky began to let down a drizzle as the dogs and a few cats began to pour in through the event gates, nothing would stand in their way of supporting other pets and the opportunity to meet new friends. One of these new friends that made their first ever debut was Ollie the AOC Dog!
Ollie was up early helping the AOC team set up the booth. Ollie knows all there is to know about bracing for pets since he has his own Custom Dog Knee Brace! This brace helps to support Ollie's knee joint after suffering a Cranial Cruciate Ligament injury, also known as a CCL or ACL injury. As a common injury in dogs, CCL tears are typically caused by Degenerative Cruciate Disease or overexertion resulting in the rupture of the cranial cruciate ligament which holds the tibia in place. 
With the support of the Custom Dog Knee Brace, Ollie is able to walk, dance, and play! Now that Ollie has the support that he needs, he has made it his mission to educate others about the use of braces for animals. 
Those that attended the event got to see a sneak-peek of the newest fashion brand for our furry friends! This new brand will be making its official debut early summer 2022 and will be available on the AOC website. A portion of the proceeds from each sale goes directly toward providing shelter and rescue pets with braces and prosthetics from Animal Ortho Care!
On display at the booth were L'il Back Bracers, AOC's dog back braces. Many dogs and their humans were interested in these braces, some mistaking them for harnesses. One pup, named Milo, has Intervertebral Disc Disease (IVDD) and wanted to try one on a Haute L'il Back Bracer and found the perfect fit! Pets and their parents alike loved being able to interact with and try out the numerous braces and FitPAWS rehabilitation products that AOC offers. 
The FitPAWS products on display, including the Original K9FITbone and Paw Pods, were a huge draw to the AOC booth. Pet parents and dogs alike were intrigued by the bright colors and unique texture of the balance equipment. The K9FITbone, pictured below, is for balance exercises and helps to strengthen core and limb muscles. The Paw Pods were often mistaken for odd shaped ball toys by a few of the dogs! They're actually meant for core strengthening and training a dog how to place their paws. Both the K9FITbone and Paw Pods have sensory nubs, which aid in neural feedback essential for conditions such as Degenerative Myelopathy, IVDD, and nerve damage. 
The entire AOC team was thrilled to meet many pet parents and answer their questions about bracing, wheelchairs, prosthetics, and FitPAWS equipment. Hardly anyone could resist playing on the FitPAWS equipment, getting a photo with Ollie, and snagging an AOC tennis ball! The 2022 Animal Humane Society's Walk for Animals was a huge success despite the rain. Stay tuned for more updates from Ollie!