The Best Type of Pet Bed for Your Dog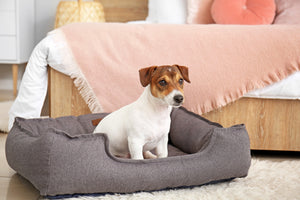 Dogs are known for being active and playing hard, but they're also known for lounging around and taking long naps. In fact, some dogs rest for up to 20 hours a day! With that much rest a dog needs a bed that is comfortable and supported when trying to get some zzz's. Just like humans, pets also tend to toss and turn in their sleep, and some wake up with aches, pains, and stiffness.
So what type of pet bed is best fit for your king or queen? Are foam pet beds better than stuffed pet beds? The short answer is -- it depends, but overall there is a clear winner. There are two types of pet beds on the market: those with foam and those filled with polyester filling. Pet beds, orthopedic or not, are designed to give your pet a comfy place to rest, and there are pros and cons to both.
A memory foam pet bed can be highly beneficial for many pets' muscles, joints, and overall well-being. The downside of a memory foam bed is that laying on it creates a divot that fits to a pet's body that a pet would then need to roll out of in order to get up from the bed. This means that it requires more energy to move and get up from the bed.
The upside to this is that getting out of bed doesn't disturb the sleeper next to them, which is beneficial if more than one pet is sleeping in the same pet bed. Regular beds aim to add comfort but don't specifically address high-pressure areas. Orthopedic pet beds are specifically designed to reduce pressure on joints and the body as a whole.
Orthopedic Pet Beds
An Orthopedic pet bed is one that supports bones, joints, ligaments and tendons. The mattress material is typically made of a standard foam known as polyurethane or memory foam material that is specifically designed to support the head, neck, spine, hips, and legs. Memory foam can mold itself around an object and return to its original shape when that object is removed, allowing for unique support built around a pet's shape. Memory foam helps to support joints and limbs while pets are lying down and provides stability when pets are getting up from their beds. The foam should have at least one inch of memory foam on the top. In addition, the bottom should have a base foam that prevents them from feeling the ground. Solid memory-foam beds are more supportive and come in a range of firmness levels, from high to low density of foam.


A lower density of foam means that less foam is used in production of the bed. This would create a softer bed since there is less foam being used to make it. A low density bed has up to 3 pounds per cubic square foot of foam. A medium density foam mattress is not as soft as a low density foam but still softer than a high density foam would be. A medium density foam mattress has 4 to 5 pounds per cubic foot of foam. A high density foam is the most firm mattress option, with 6 or more pounds per cubic square foot.
The differences between densities of foam do not just stop with the firmness of the mattress. A higher density mattress is going to have higher durability because it has more material and will not break down as easily. In addition, as the density level rises, the price of the mattress also rises.
A high-density bed has more foam and will cost more as a result. The higher the density of the foam, the less contouring can be expected, but all densities of memory foam have some amount of give and response to the pet's weight. Also, response time, or the time it takes the material to return to its original shape, is affected by the foam density. A lower density foam would have a faster response time and bounce back more quickly since it has more air pockets inside. A higher density mattress will bounce back slower and also weigh more due to the higher amount of material in the mattress.

The extra support from an orthopedic bed can lessen the chances of your dog developing stiffness and, in extreme cases, bed sores from prolonged periods of laying down. A clinical study conducted by the University of Pennsylvania found that an orthopedic bed reduced joint pain and stiffness, improved joint function and gait, and led to improved nighttime restfulness in large dogs with arthritis. Moreover, dogs were limping less and moved around easier. An orthopedic bed also provides other benefits like pressure relief and neutral spinal alignment, which is especially beneficial for dogs that sleep on their backs. Other things to consider is whether you have multiple pets sharing a pet bed. Foam beds are great at motion absorption which helps your sleeping angels stay asleep and not get disturbed when they are sleeping.

Another study from Whole Dog Journal conducted tests on nine orthopedic dog beds and found that large dogs need a thicker mattress. Thicker mattresses allow for more support and typically last longer than thinner pet beds. Depending on the type of foam, the bed can get too warm: closed cell foam lacks air flow which traps heat while open cell foam is great for cooling. Some closed cell foam pet beds use a cooling gel to reduce the amount of heat trapped.

In addition, an orthopedic bed can encourage healing and increase circulation by reducing high pressure areas. Finally, it helps with support related to common problems in aging, such as arthritis, hip dysplasia, back or muscle problems, joint problems, and soft tissue injuries, and getting a supportive bed earlier in life can help prevent these issues in the future.
Stuffed Pet Beds
Stuffed pet beds are those that are filled with a stuffing or polyester filling. Beds that use polyester fill are fluffier and squishier and can provide support for smaller and lighter-weight dogs as long as they have tightly packed material. If it's a "stuffed" bed with "filler" or just a "stuffed," bed, it provides minimal support to your dog and should be avoided. A "stuffed" bed will have stuffing that wears down over time, leaving your dog with no support. The other issue is that these types of beds do not conform to the body and so they don't provide nearly as much support.

An orthopedic pet bed is the best option to provide full support to your pet when they are resting. Foam beds are able to mold to the pet's body and therefore can provide support specific to each pet individually. If you are looking for a foam pet bed with a multipurpose therapeutic treatment option, then consider our Embed Drift Pet bed. It has a removable cover for easy cleaning, and has the added benefit of our signature EM therapy, also known as Pulsed Electromagnetic Field (PEMF). Our EM therapy sends gentle pulses into your pet's soft tissue and works at the cellular level to help reduce pain and swelling while increasing blood flow. Whether you are looking for a pet bed that provides pain relief or one that is comfortable, there are some things you should consider before your next pet bed purchase.


Things to consider when buying a pet bed:

It is important to think about what your pet may like and what is best for you as well as what is best for your pet's overall well-being. When your pet is happy you are happy!
Traditional Memory Foam Beds

Regular Foam Beds

Stuffed Beds 

Cost

$$$

$$

$

Motion Absorption

High - the bed is very stable and will not shift as your pet(s) move

Medium - the bed may shift some as your pet(s) move

Low - the bed will shift as your pet(s) move

Support

Best - your pet's body will be fully supported

Moderate - your pet's body will be supported

Lowest - your pet may feel the ground through the bed

Recovery (Response time)

 

Low - the bed takes a few moments to return to its original shape

Medium/High - the bed will return to its original shape quickly

 

N/A - there is no rebound in these beds

Odor

Emits Chemical Odor

May Emit a Chemical Odor

No Odor

Cleaning

Foam cannot be machine washed, Outer lining may be machine washable

Foam cannot be machine washed, Outer lining may be machine washable

Entire bed can typically be machine washed

Temperature

Traps heat - cooling gel or open cell foam required

May trap heat depending on foam cell type

Does not trap heat

Life Cycle

The foam will last a long time

The foam will last a fairly long time

The stuffing will not last a long time