Derby Loving His New 3D-Printed Legs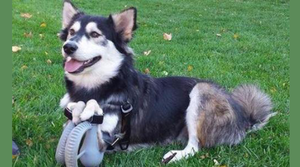 It's been a wild week here at Animal Orthocare.
Buzzfeed picked up the story about Derby, a malamute mix born with deformed front legs who, thanks to the efforts of our team and the folks at 3D Systems in Massachusetts, now has a set of unique 3D-printed prosthetics.
Check out video of Derby and the amazing group of people who believed him:
The Animal Ortho Care team is thrilled to have been a part of this innovative project that will revolutionize animal orthotics and prosthetics.
We'll check back in with more details about how Animal Ortho Care helped Derby and how we'll use this technology in the future.
Read more: Derby the dog runs miles with 3D printed prosthetics