HUDSON NEEDED TO HAVE A PROSTHETIC PAW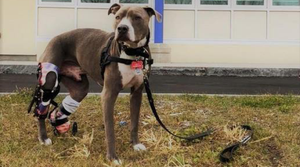 September 8, 2012 in Albany, NY, railroad workers found 3, 3-week old puppies nailed to the railroad tracks by their paws. Hudson and his two sisters were rushed to a local animal shelter. One of the sisters didn't make it and the other sister got to keep her paw. Hudson needed to have a prosthetic paw.
October 12, 2012, Hudson was fitted for his first Partial Limb Prosthetic and now Hudson can walk normally. As a growing puppy, he will keep outgrowing his prosthetic paws until he is fully done growing. Animal Ortho Care just sent Hudson a new prosthetic paw in early June that fits him perfectly!
Watch Hudson Walking with his Prosthetic Paw!
With the help of custom made prosthetic limbs and braces, your animal's mobility can benefit, just like Hudson's did!
Check out Hudson's Facebook Page.