Husky-mix loses his limp and returns to 'crazy self' thanks to Animal Ortho Care CCL Stifle Brace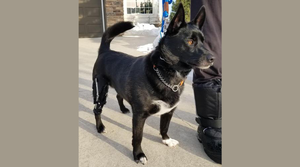 In addition to offering a line of custom-made braces, prosthetics, and other mobility devices for animals, Animal Ortho Care offers several off-the-shelf brace options for pet owners interested in exploring an affordable brace option for their dog. The Animal Ortho Care Achilles Brace and Performance Dog Knee Brace and come in a variety of sizes to offer the right fit for your pet and are backed by great customer care to ensure your pet is getting a product that fits properly and helps your pet regain his mobility in safe, non-invasive way.
We recently caught up with Winnipeg, MB Canada resident Valerie to purchase a CCL Stifle Brace for her dog, Quincy. Here, she shares Quincy's story and discusses how Animal Ortho Care was able to help get rid of his limp and return him to his "crazy self."
Tell me about Quincy. How old is he? What's his breed? How did he become a part of your family? What's his personality like?
Quincy is 3 years old (he'll be 4 in October). He's a cross between a Siberian Husky, Border Collie and Corgi- so he has a lot of energy! He is a rescue dog from a Northern Reserve, and we adopted him through Manitoba Mutts Rescue when he was approximately 6 to 8 months old.
His personality- he has a lot of energy, is VERY curious about everything, and is super affectionate with his humans! He loves to play, run, go for walks and car rides, but he loves his cuddle time, too!
How and where was Quincy injured? What happened to him that necessitated the brace?
We noticed Quincy limping and holding his leg up around the fall of 2017. We don't know what the exact cause was, but he's an energetic guy and can be clumsy at times - we think he must have jumped wrong or twisted his leg somehow while he was running in the backyard.   
We took him to the vet and after X-rays and an exam we were told he has hip dysplasia in both hips. We received pain medication and treatment options. A few nights later, Quincy was still limping but in obvious pain, and was crying non-stop. We decided to take him to the 24-hour emergency pet hospital, which is where we were introduced to a bone and joint specialist. After some more testing (and cortisone shots for Quincy), he confirmed the hip dysplasia, but he also told us that Quincy had torn ligaments in his knee which is where his pain and discomfort was coming from. He said the only option was surgery and he wanted to do so immediately. We decided to take him home (along with more pain meds) and do some research before making such a drastic decision. The option for a knee brace was never offered to us; it seems as though this is not available in Canada.
What treatment options have you sought for Quincy's injury?
We did look into the possibility of surgery, but we were told it would be very invasive, and would be about a 12-week recovery period plus therapy afterwards. We didn't want to put Quincy through this type of pain and such a long recovery period if we didn't have to, so we decided to search for other options.
How did you find out about Animal Ortho Care? What interested you in trying out a brace for Quincy?
I Googled knee braces for dogs. I had torn my ACL a few years ago, so it prompted me to think if they have braces for humans, that they must exist for dogs as well! Fortunately, I was right. I found a few websites for different braces, but Animal Ortho Care seemed the most affordable, the location was the closest to Winnipeg, and when I contacted Animal Ortho Care to ask questions, the customer service I received was beyond my expectations!
How long after Quincy was injured did you purchase the brace? How long did it take to receive the brace?
We ordered the brace about three months after the injury.  Once we ordered the brace online, it was shipped immediately to us via courier and only took a few days to arrive.
Can you talk a little about the process of getting the brace? How easy was it? Did you experience any challenges or frustrations?
[It was] very easy to order! We took measurements and submitted online, and by the next day we received an email from Animal Ortho Care asking us for more specifications. They said they would send us two sizes as Quincy's measurements seemed to be in between. They sent us two braces immediately, with return information to send the unused one back. The whole process was super easy and we were blown away by the speed of the shipments as well as the amazing customer service we received!
How did Quincy react to the brace the first time you put it on? How has he adapted to it? How long has he been wearing it?
Quincy wasn't very fond of it at first. He doesn't like to wear things other than his collar. Fortunately, Animal Ortho Care reached out to us after a few days to see how things were going, and I voiced my concern over the difficulty of adapting Quincy to it. They suggested putting it on him for short periods every day for him to get used to it, and to associate it with things that Quincy likes to do, so he would eventually want to wear it. So we did that - now every time we even touch the brace, he gets really excited as he knows it means something fun is going to happen - either a walk, playtime in the backyard, or his four-legged friends are coming for a visit.
How has the brace affected Quincy's mobility? Have you noticed an improvement? Any changes?
We have definitely noticed positive changes! He stopped carrying his leg almost immediately. He started running and jumping again, within a few days. He's back to his crazy self! We do notice though that if he's not wearing his brace and he runs around too much, the pain does return. So we know it's not time to let him go without it.
In addition to the brace, what other treatment is Quincy currently receiving? What treatment plans do you have for the future?
The brace is the only thing we are using at this time. We are giving him a daily supplement with Glucosamine, MSM, Collagen and Ascorbic Acid with his dinner. This is the only thing we have planned for him at this time.
What would you tell other pet owners who are considering purchasing a brace for their dog? What advice can you offer?
I have been telling people about this product and how fantastic our experience has been. We know a few people who are considering surgeries for their pets right now and we have suggested to try this option first. It's much cheaper, it's non-invasive, and it's easier on the pup and the family.
What feedback can you offer on working with Animal Ortho Care? How was the process for ordering and receiving the brace? Have you been satisfied with your experience?
We have been extremely satisfied with Animal Ortho Care. Our questions have been answered immediately.  Assistance was provided when we weren't sure on the usage of the brace. When a strap on the brace broke, we fully expected to have to purchase another strap, but we were sent one free of charge and it was received the next day by courier! We couldn't have asked for a better experience!