Giving Rachael's 15 Year Old Pittie a New Sense of Vitality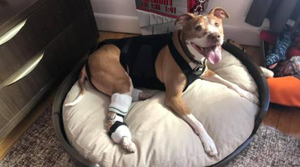 Being such a specialized service, Animal Ortho Care (AOC) receives lots of customers through word of mouth recommendations. Little did AOC know that one of their clients, who had been on the Rachael Ray show, would recommend them to Rachael.  Since Rachael's dog was having issues with her spine and legs, she advised Rachael to get in contact with AOC as soon as possible.
"[Rachael's] representative from the show reached out to get a good time for Rachael to call [us] and she did.  Rachael discussed with [us] the issues Isaboo had been having as an almost 15 year old dog. Some of the issues were Intervertebral Disc Disease (IVDD), arthritis in the hocks bilaterally, and other conditions associated with old age," says AOC.
Isaboo is extremely important to Rachael and her husband John, and is a big part of their life.  "She is Rachael and John's child," AOC states.
Many measures were taken to ensure Isaboo would be as comfortable as possible in her recovery.  In short, AOC says they, "used a Custom L'il Back Bracer to help reduce the pain associated with Intervertebral Disc Disease (IVDD). In addition, the AOC team created, bilateral Custom Dog Hock Braces to help give some support to the arthritic hocks.
Lastly, to help manage the arthritic pain that Isaboo was battling, "we fitted her with the EMbrace Relief System to help reduce pain in her hips, spine, and shoulders."  The EMbrace Relief System is a multifunctional device that can reduce pain in multiple areas. AOC also emphasized that, "she looks overall very good for a 14 year old dog, Isaboo is like a child to them and they want her as happy as possible."
Despite being a few months since the AOC team helped Isaboo, Rachael recently stated on her show that Isaboo wears her braces daily.