Obese sheltie-mix sheds weight and learns to walk with help of AOC braces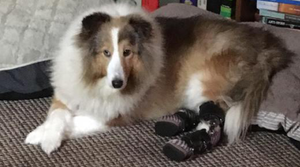 When 5-year-old Shannon first arrived at Leon Story and Judy Hishikawa's Vermont cabin last December, the sheltie-collie mix was 15 pounds overweight and could barely walk.
She'd spent the first part of her life living with an elderly couple suffering from dementia, who'd forget how often they fed her. By the time she was 2 years old, Shannon weighed 70 pounds- twice what her ideal weight should've been- and was a total couch potato. Her legs buckled under her weight forcing the dog to walk on her hocks.
Last summer, Shannon's owner fell in her home and could no longer live independently, so Shannon was taken in by Granite State Sheltie Rescue in Fremont, N.H..
Joanne MacEachern, a volunteer for Granite State, made it her mission to help Shannon lose weight and regain the use of her legs. Several times a week, Joanne would take Shannon for physical therapy at Horse 'N Hound Physical Therapy in Hollis, N.H., where she would use the underwater treadmill. By December, she'd lost 20 pounds. In order to help stabilize her hind legs, the rescue also fitted her with a pair of Custom Dog Hock Braces from Animal Ortho Care.
After hearing Shannon's story, a good Samaritan from California donated $5,000 toward Shannon's rehabilitation- allowing the rescue to offset the costs of her physical therapy and the orthotics.
Judy knows a thing or two about struggling to get around. In May 2017 the retired school teacher injured her ankle. Recovery was slow. She'd been thinking about adopting another Collie after losing her dog, Queenie, in May of last year.
"When I read about Shannon and that she needed lots of short walks and walking therapy inside the house with braces, I thought, 'This is perfect, I need to walk.'"
So, she brought Shannon to her and husband's 11-acre farmette. The pair do physical therapy together.
When Shannon first came to Judy's, she and her husband both needed to help the dog walk around their home, supporting her body with a sling. The trio would walk the length of their 27-foot cabin and back, helping Shannon gain strength. After two weeks, she didn't need the sling anymore.
In addition to adjusting to her new home, Shannon had to get used to her new braces. The original design included feet, which helped support the entire length of both of Shannon's legs and her weight.
"She wasn't walking on her paws," Judy says. "They really had to hold her up."
In order to warm Shannon up to the braces, Judy established a routine where Shannon would get to eat and get a massage after she walked in them.
"Now when I get out the braces, she thinks of foods right away. She's there," Judy says.
At first, the sheltie was only able to walk around the house two or three times. Today, she's up to 16 laps inside- about a mile every three days.
A couple months ago, Judy took Shannon in to be re-evaluated by a physical therapist. After watching her walk, Judy Coates, a certified canine rehabilitation therapist in Lebanon, N.H, recommended the braces be modified to allow Shannon to start using her paws when walking. Judy sent a video to Animal Ortho Care who suggested they just cut the feet off the braces, which would allow them to continue supporting her upper and lower legs while forcing Shannon to walk on her own feet.
The braces are solely for indoor use, as Shannon needs a firm surface to walk on with them. Judy is methodical about walking the dog twice a day inside while she wears the braces. Outside, she's still walking on her hocks, but gaining strength every day.
At first, she could only get up and down the three steps to the back porch, then the five on the other side, now she can go up and down the eight front steps to the front porch.
The other day they were walking outside and a squirrel came across the path.
"I let her off leash and she took off, running," Judy says. "That was the first time she'd pulled and really wanted to run."
She loves exploring the farm and is especially curious about the chickens, Judy says. Recently, while checking nest boxes, Judy was surprised to see Shannon jump up on her hind legs to take a peek at the hens.
"The chickens are a big motivator," Judy says.
As the weather warms, Judy hopes to add swimming (with the help of a life vest) to Shannon's routine to further build up strength in her legs. Long-term, she'd love to see Shannon walking on her paws full time.
For a human, a new diet, leg braces and an exercise routine might result in some extra crankiness. But Judy says Shannon is a total doll.
"This girl is very intelligent. She knows we're working to get her walking normally."