Stife Brace Allows Boxer to Keep "Trucking Away"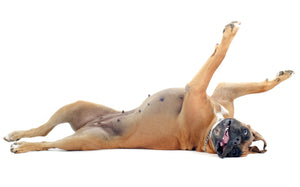 Brock might be a senior dog, but his owner Felicia Schumacher says the 12-year-old Boxer still has a lot of spunk and attitude left. And today, thanks in part to his Performance Dog Knee Brace, he still has a little giddy up in his step, too.
Felicia has had Brock since he was just 6 weeks old; she said he's been the one constant in her life for the past decade. Years ago, while going through a bad breakup, the Madison Lakes, Minn. resident said she struggled with depression.
"I don't know if I would be here without Brock," she said. " I had some really low times … he was always there for me."
So Felicia wanted to make sure she does what she can for Brock as he gets older.
Over the years, she'd observed her dog limping on and off.
Back when he was just 4 years old, there was a day he came in from playing outside with a limp. At first, Felicia thought he might have pulled something or that he was showing early signs of hip dysplasia. She gave him some rest. He stopped limping. But occasionally he would start up again.
It got worse when Brock was 8– Felicia took him to the vet and learned he'd blown the ACL in his left knee and torn his meniscus. They repaired the tear with surgery but were prepared for his other knee to go, too.
Sure enough, back in March Brock started limping again while running around her husband's family farm. They took Brock to a specialist who said he'd probably torn his ACL and his meniscus. The vet recommended surgery.
But Brock is 12 now. He'd developed an irregular heartbeat and Felicia was fearful about having him undergo surgery again. She decided to look for other options. She's tried some water therapy for Brock– but the clinic is an hour away and difficult to get to on a regular basis. The lake nearby was too cold and the weather had been rainy.
Her regular vet had mentioned that a brace might be an option, but didn't have more information about them.
"They couldn't give me anything else to do other than what I was doing already," Felicia said. "I felt like I was at a dead end."
While she understood that Brock would never be 100 percent better because of his knee, Felicia thought she could find something to help relieve some of his pain so he could still have fun.
She'd done some online research and learned about the availability of braces for dogs like Brock and she found a nearby rehab specialist that had worked with braces. So she set up an appointment in August.
At the rehab center, Brock was fitted with a Performance Dog Knee Brace, an off-the-shelf, customizable brace that offers stabilization to animals who've been injured or who are recovering from surgery.
He was just "trucking away with it" that first walk he took with the brace on, Felicia said. He stands calmly while she puts it on and adjusts it and doesn't fuss with the brace after it's on.
Brock had been using the brace on walks for 10 to 20 minutes at a time for about two weeks when he started experiencing pain flare-ups as a result of a torn meniscus.
"He did really well in it," Felicia said.
They're going to hold off on putting it back on until the pain seems to has lessened, at which point he'll resume using it on walks and when he's active at home. Felicia said she liked the product – the padding and thermoformable plastic body are great, she said, and it's easy to adjust at home. She's hopeful that it will offer him the support he needs and allow him to keep trucking along.
For owners looking for treatment options for their injured pets, Felicia says not to be afraid to ask questions and to seek out second opinions.
"My first vet told me I was doing everything that I could do. I didn't want to accept that as an option," Felicia said. "Some people would've put him down. He's worth a lot to me."