U.K. Retriever-Mountain Dog Mix Walking with Confidence - Thanks to the Performance Dog Knee Brace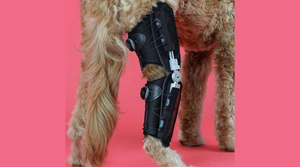 Meet Toby, a Golden Retriever-Bernese Mountain Dog mix, who despite being 4 years old has still not outgrown puppyhood.
His mom, Mandy, says Toby is a bouncy boy who loves to play with everyone– from dogs to her two daughters. The other love of his life is food– though sadly for Toby, he's on a diet.
"He means the world to me and has seen me through some hard times."
Toby himself has gone through some rough times in recent years.
When he was just 14 months old, Toby slipped on the kitchen floor and ruptured his right cruciate ligament.
Last year, Mandy noticed that Toby was leaning a lot on her and the furniture in their house. During walks, she noticed his gait was abnormal– he seemed to be placing his left leg awkwardly to support himself.
"The trouble I have with him is that he shows no pain," Mandy said. "He was weight bearing but would stretch like a cat frequently and lick his paws."
But Mandy could tell he was in pain. Something wasn't right.
She took him to a vet near her home in East Sussex in the U.K., who took X-rays and confirmed a Cranial Cruciate Ligament rupture. Toby would need rest and pain relief. He could only go on short walks, couldn't go upstairs and needed gentle massage.
Toby injured his leg further and had to undergo surgery, during which the vet found that Toby had multiple lesions and that his joint was bloody.
While recovering from surgery, Toby slipped. He had to return to the operating table to stabilize his knee. But his health went downhill.
Toby was bleeding internally and X-rays showed he had an enlarged heart and inflamed stomach lining. He was diagnosed with Dilated Cardiomyopathy, a condition that affects the heart's ability to pump blood and can result in congestive heart failure.
The vet prescribed medication for his heart that he'll have to take for the rest of his life.
Following his surgery, the vet and nurses who operated on him came across the Performance Dog Knee Brace at a veterinarian conference.
"I thought of Toby straight away and highly recommended them. Anything that would help him was worth trying," Mandy said.
Toby has been using the brace on his leg for two months now and has adapted really well to it, she said. She's noticed a considerable difference. So she decided to get one for his right leg, too.
"At first he wasn't sure and when he had it on initially, he would just kick out," she said. "However, he walks brilliantly with both on."
Unfortunately, Toby has since chipped a piece of his bone and broken the pins and wires used in the surgery for his legs. He's had two operations in the past month to repair the broken parts– it's seemed to stabilize the joint.
"I have good days and bad with him, because he has been unable to exercise for quite a while, he does get quite out of breath," Mandy says.
Toby is using his braces again and Mandy says they've definitely made a difference for her dog.
"I would willingly recommend these braces … They are a tremendous product and very well made," she says. "To see Toby walking with confidence again is great."