What are Tamarack Hinges?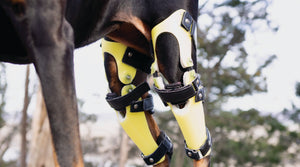 Tamarack hinges are small, medical grade polyurethane fiber-reinforced hinges that replicate the motion of natural joints. They have been used in human orthotic braces since 1995 and are now being used for veterinary patients. Unlike other hinges that can be used for dog braces, such as the Range of Motion Hinge, Tamarack are small and contain no pivot hinge. They have been used in human orthotic braces since , meaning they are not centered around a screw or bolt to bend. As a result, they  are easy to fabricate, extremely durable, and provide smooth, natural motion.
Tamarack Hinge
Why use these Hinges for Pets?
Since Tamarack hinges are frequently used for human medical treatment, which is heavily regulated, you can feel confident they will be safe for your pet. The hinges we use are specifically made for animals. The material of Tamarack hinges are specially built to match your pet's natural joint action and flexibility, meaning it has a low durometer (hardness) compared to a human Tamarack hinge. The harder the tamarack hinge, the more difficult it is to flex. Along with a properly designed thermoplastic shell, these Tamarack hinges mimic normal joint motion and prevent hyperextension of the knee when used in a Custom Dog Knee Brace

Custom Dog Knee Brace
Tamarack hinges are waterproof so your pet can go outside and play in the rain or or take a walk on the beach without worry that the hinge will wear out or break down.
As mentioned previously, Tamaracks are a single, uniform piece with no pivot hinge. This means that you don't have to worry about your dog's fur getting caught in a moving hinge. Since the hinges are placed on the inside of the dog brace and under the padding of the brace, they won't impact the look of the brace.
Tamarack hinges have been vigorously tested in human orthotics and have been approved for a MINIMUM of 3 million life cycles. This means that the hinges are also guaranteed for life, so if they do happen to break down or fall off, we will replace them FREE of charge.  
Uses for Tamarack Hinges
Tamarack hinges are our go-to hinges because of their versatility and proven record of helping pets of varied species and sizes. They can be used in almost any custom pet brace. Here are just a few examples: