Animal Ortho Care Gives Owners Options For Treating Injured Pets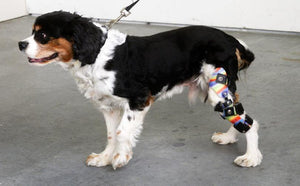 Lance the Cavalier King Charles spaniel was never the same after his "great escape" from his Eden Prairie yard.
When owners Mike and Maggie Diede found their 12-year-old dog, he was limping badly, having torn a muscle in his hind leg.
"He wasn't using his leg at all," Maggie Diede said. "He was kind of hopping around on three legs."
The couple didn't want to shell out $3,000 for surgery and weren't sure a dog of his age would tolerate the recovery well. They didn't want to put him down, either. They needed another option.
They found it in an Arden Hills company that has found a niche market for animal owners in just such a predicament. The company takes established orthopedic equipment used for people and modifies it for animal use.
Read more about how dog knee braces can help your pet