Holiday Highlight: Luke the Great Dane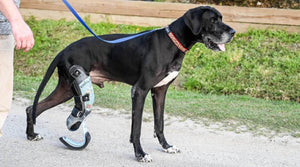 It was a year ago during the holiday season that police officers were called to a South Carolina residence where they discovered a neglected six-year-old Great Dane tied to a pole in his owners' backyard. Without access to food or water, the dog was emaciated and unable to walk because he had chewed off his own foot, presumably to free himself from a cable runner that was tightly tangled around his leg. Animal Control officers transferred the dog to Noah's Ark Rescue where, upon his examination, the medical staff feared he would not survive more than a few nights.
 But he did.
Luke beat the odds and survived those initial nights. Unfortunately, while nursing him back to health, caregivers determined that Luke's infected leg needed to be amputated if he was going to have a real chance at life. Once Luke completed treatment for his respiratory and leg infections, as well as intestinal issues, surgeons successfully removed the damaged portion of his leg and reattached tissue to close his wounds.
"Luke was very scared and unsure of people at the time. After several days in the ICU, we brought him to our rehab facility so he could relax, which made a big difference in his personality. He soon realized we were not going to hurt him," says Jennifer Smith, president, Noah's Ark Rescue. "[He] is a gentle giant that wants nothing but a chance to be a dog that is loved."
While Luke was regaining his weight and strength, and adjusting to the loss of his leg, caregivers didn't expect to ever see him run.
But he would.
Smith contacted Animal Ortho Care (AOC), and asked if a custom prosthetic could be made for Luke. The AOC Team personally traveled to South Carolina to see Luke and take a cast of his leg. Once back at AOC's Limb Lab, the AOC Team created several different prosthetics to try on Luke before settling on the best options.
During a second trip to South Carolina, the team fitted Luke with a copolymer plastic prosthetic with a plastic extension, but it was not well tolerated. They then tried a carbon fiber laminated socket with a removable non-porous, anti-microbial foam liner with a spring foot made from polypropylene. This second design fit Luke very well. The spring foot provided an energy rebound that allowed him to walk farther without tiring as easily.
"I knew it would take some time for Luke to feel comfortable wearing the prosthetic, so we introduced it to him slowly and worked up to longer wear times," says AOC. "As this was a higher amputation level device, it took a few minor adjustments before we had a fit that worked perfectly for Luke."
With a lot of encouragement – and motivational treats – Luke not only began to put weight on his new prosthetic within those first 20 minutes, but he then began to jump mid-air and land on it. Once the team felt he was adapting well to the new prosthetic, Smith took Luke on a literal "test run" and was thrilled to see Luke chase her on all fours!
"We were amazed to see Luke not only take his first steps with the prosthetic, but then to eventually run—it was awe-inspiring!" says AOC.
Looking back to the day Luke first arrived at Noah's Ark, no one imagined that he would survive, let alone go on to inspire others through a journey that led him to run freely in a new backyard… one he now shares with a loving, adoptive family.
Read more about Luke's story here.
Learn more about Noah's Arks here.