Luke with a new prosthetic - Revels in his second chance at life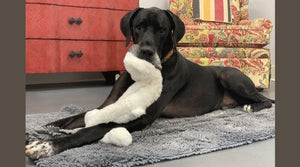 It wasn't so long ago when Luke's survival was a daily miracle.
But today, the rescued Great Dane not only has a new lease on life – he's also equipped with an augmented leg, courtesy of world-renowned animal orthopedist Derrick Campana, founder of Animal Ortho Care.
"He was putting a lot of weight on it, which was great, and I'm going to send a few extra spring feet down there with different variable resistances, so he can practice," AOC said.
Animal Ortho Care, whose work has been featured on Animal Planet – last summer they traveled to Botswana and fitted an elephant with a leg brace – said they were inspired by Luke's journey back to health.
The 6-year-old dog arrived at Noah's Arks, a Ridgeland-based animal rescue facility, just before Thanksgiving.
Severely malnourished and fighting an aggressive infection after gnawing off his foot in an attempt to free himself from a tangled runner, Luke was 100 pounds underweight and developed severe heart and lung problems because of electrolyte loss.
Doctors removed his damaged leg in December, and have been working toward crafting a prosthetic. AOC designed three versions, and Luke took to the final model and quickly regained his mobility.
"He did better than expected upon initial fitting. Since he's a Great Dane, he has a nice long, lean leg, which made it easier," AOC said. "He hasn't used that leg for a while, so it takes some time to get used to it."