Custom Wrist Brace helps 11-year-old German Shepherd look after his mom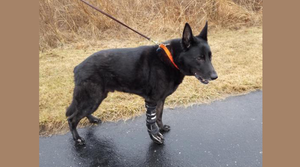 Terri Perrino says Diesel, her 86-pound German Shepherd, is a total mama's boy. Whenever Terri is at work teaching high school science, the 11-year-old dog mopes around the house until she comes home, according to her husband, John. If she has to go out of town for one reason or another, the family isn't even allowed to mention her name, it upsets the dog so much.
While Diesel doesn't care too much for other dogs­- he'll bark at them whether they're on TV or walking by their home in Northern Kentucky- he loves people. He's very protective us his family- always pacing back and forth to make sure everyone is safe. And the family wants to ensure that their beloved family pet is also healthy and happy.
The Perrinos got Diesel as a puppy from a back yard breeder in California back in 2006. He'd never experienced any real health problems.
Then one night in March 2015, after they'd gone to bed, they heard Diesel whimpering. He'd fallen down the basement steps and injured his front right leg. Terri took him to the vet the next day; X-rays showed that he hadn't broken anything, but they told him he'd somehow pulled out all of his tendons and muscles. The vet advised the family to keep an eye on their dog for a couple weeks and to come back if he wasn't improving.
After two weeks, Diesel still could not put any weight on his leg. His regular vet said there was nothing he could do and referred the Perrinos to two different vet centers in the Cincinnati area.
"We took him to the wrong one," Terri says.
The second vet recommended Carpal Arthrodesis Surgery- fusing Diesel's wrist bones to give his leg support. He'd end up having to use the leg like a peg leg, but the vet promised he should get along fine as long as they followed the instructions for recuperation.
They operated on him the very next day.
Diesel was in a cast for more than two months, during which Terri was only able to walk him a few minutes a day. They visited the vet frequently for checkups, but Diesel was always chewing at his leg. It turned out some of the screws that had been inserted as part of the surgery were backing out of the plate they were set in. That's what was making Diesel chew his foot. They had to operate again in November after which Diesel was back in a cast and miserable.
"This dog went through hell," Terri says.
By January 2016, Diesel had finished recuperating and Terri was given the go ahead to start walking him more, though he still wasn't allowed on furniture. Everything was OK for a couple months, until one day at the end of April when he tried to jump on their bed and didn't clear the footboard. He had cracked his foot.
"Never in a million years did I think he'd hurt himself jumping up," Terri says. "I always figured he could get hurt jumping down."
Terri took Diesel to Greater Cincinnati Veterinary Specialists where Dr. Susan Hodge, DVM, DACVS Surgery, told her when his foot hit the bed, he'd sliced right through the fuse. Though he was in a tremendous amount of pain, Terri didn't want to put him through surgery again. By then he was 8 and a ½ years old; most German Shepherds don't often live much beyond 13.
Luckily, Dr. Hodge wasn't suggesting surgery. She asked Terri if she'd ever thought about putting Diesel in a brace.
The thought had never crossed Terri's mind. And her other vets hadn't mentioned the option either.
Dr. Hodge told her about how a brace would work for Diesel and suggested she work with Animal Ortho Care. She even offered to take a cast of Diesel's leg to send to Animal Ortho Care.
The completed Custom Dog Wrist Brace was delivered within a couple weeks. Dr. Hodge put the brace on Diesel for the first time- showing the Perrinos how to firmly tighten the Velcro straps.
"He took to it like it was nothing," Terri says. Maybe he was used to having something on his leg after 16 weeks' worth of wearing a cast, she adds.
Early on, the family noticed the brace was rubbing Diesel's leg wrong and that he was developing a sore. Terri took pictures of the leg and emailed them to Animal Ortho Care who instructed her to send the brace back. He modified it and shipped it back to Terri within about a week. That solved the problem.
As Animal Ortho Care recommends to all its clients, Terri started Diesel off slowly wearing the brace. He wore it an hour or so a day at first, then they gradually increased the length of time he'd wear it. Once he was used to it, he wore it nonstop for nearly eight months (except at night) while his leg healed. Today, he can walk on his leg without the brace, though they still wears it about 75 percent of his waking hours- especially on walks.
The Perrinos have two braces for Diesel. When he wears out the straps or pads on one, they ship it back to Animal Ortho Care to be refurbished and use the other brace.
Terri is grateful her dog is OK. After going through two surgeries and being housebound for almost nine months, Diesel was depressed. When he injured his foot the last time she thought she'd never be able to walk him again. She knew she didn't want to put him through another surgery and worried she might have to put him down.
"We got the brace and it was like a new animal," she says. "I can't tell Dr. Hodge and Animal Ortho Care thanks enough."
To other dog owners considering using a brace for their pet, Terri recommends listening to the advice of their doctor and the animal orthotist. Follow the rules for helping your pet adapt to the brace, but also be willing to experiment a little. Terri noticed the brace was rubbing Diesel in certain spots, so she bought small children's socks and cut the toes off so they could provide an extra layer of padding and protection between the brace and Diesel's leg. The dog can't tell you it's in pain, she says, so you have to be diligent about inspecting their legs and the brace every day to catch sore spots. And watching the dog's behavior. Sometimes Diesel will chew at the straps if they're not fitted properly. A lot of times, this can be prevented simply by adjusting the way you're putting the brace on. Watching Dr. Hodge put the brace on helped Terri realize she wasn't hurting Diesel and she could be a bit more firm herself.
She says that Animal Ortho Care was easy to work with. Anytime she's had questions or needed adjustments to the braces, their team has been quick to respond and their turnaround on repairs and refurbishment is speedy.
"I can't say enough wonderful things for what they do."